WordPress and Shopify are among the most popular options for online business websites for service based and ecommerce businesses. If you are just starting out or considering to switch between the two, you're probably wondering how to decide which is the best option for you. This comparison will guide you through the critical factors to consider when weighing the pros and cons of each platform.
Key Takeaways
Comprehensive evaluation of your business needs should be conducted to determine the best platform for ecommerce website.

WordPress offers increased flexibility and control, while Shopify provides user-friendly features with mobile options & built-in security.

Consider budget constraints, user experience, payment processing capabilities, SEO optimisation & scalability when selecting an ecommerce platform.
Evaluating Your Online Business Needs
Before we delve into the differences between WordPress and Shopify, a thorough assessment of your online business needs is required. Here are some questions to consider:
Do you require a simple, user-friendly platform or a more customisable solution?
Are you selling physical products or digital goods?
How many products do you plan to sell?
Do you need built-in marketing and SEO features?
Are you comfortable with managing your own hosting and security?
Understanding your unique requirements will help you determine the most suitable platform for your ecommerce website.
Type of products
The type of products you plan to sell will undoubtedly influence your choice between WordPress and Shopify. Both platforms cater to businesses selling physical and digital goods, making them suitable options for your ecommerce store.
However, Shopify stands out as an ideal platform for your ecommerce business, especially when selling ebooks and other digital products, thanks to its specialisation in ecommerce and user-friendly interface. Adding products on Shopify is a breeze, with options to upload products individually or in bulk via a CSV file, ensuring easy inventory management for your online store.
Shopify offers various plans to cater to different Shopify users, from the Basic Shopify plan for personal users to the Advanced Shopify plan for businesses looking to expand their ecommerce functionality.
Technical expertise
Your level of technical expertise is a key factor in your decision between WordPress and Shopify. When considering Shopify vs WordPress, if you prefer a more hands-on approach and have the skills to customise your website, WordPress offers increased flexibility and control over design and functionality. However, if you lack technical expertise and desire a more user-friendly experience, Shopify's drag-and-drop interface allows you to design and customise your website without any coding knowledge.
WordPress offers various plans tailored to different users, with WordPress Premium catering to freelancers and WordPress Business targeting small businesses. Ultimately, your technical expertise will significantly impact your choice between the two platforms when creating WordPress websites.
Budget constraints
Your budget is a key determinant when deciding between WordPress and Shopify. While WordPress is free to use, additional costs such as hosting, domain name, theme, and plugins may be required to create a fully functional online store. The cost of running a professional, scaleable WordPress site should not be underestimated.
On the other hand, Shopify offers three plans ranging from $29 to $299 per month, with varying features and transaction fees. Additional costs, such as purchasing a domain through Shopify or using the 'Shopify POS Pro' add-on for selling in physical locations, should also be considered when evaluating your budget.
As a general guide, WordPress will be cheaper to start with, but as you build out your site functionality and traffic, both options will incur similar costs, depending on your needs. Be sure to examine the costs of your exact needs such as specific plugins (WordPress) or apps (Shopify), customisations, and more when selecting the platform that best fits your business.
User Experience: WordPress vs. Shopify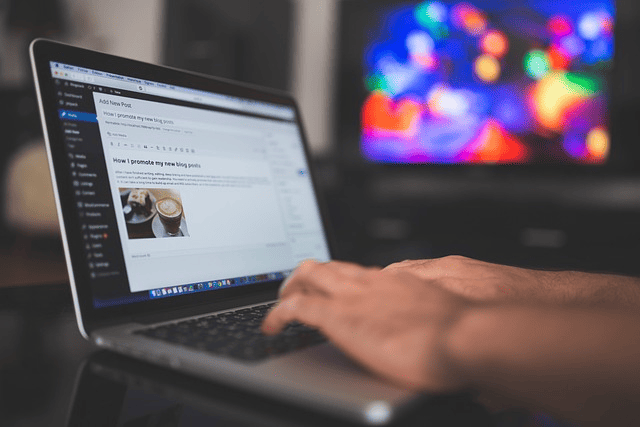 User experience, which can greatly influence customer satisfaction and retention, is a critical element of any online business. Comparing the user experience of WordPress and Shopify will provide you with valuable insights into website navigation, design flexibility, and customer satisfaction. This will help you decide which platform will deliver the most seamless and enjoyable user experience for your target audience.
Website navigation
Effective website navigation is key to enabling your customers to browse and find products on your ecommerce site with ease. While WordPress offers extensive personalisation options for website navigation, including custom menus, widgets, and plugins, Shopify provides user-friendly features such as navigation bars, drop-down menus, sidebar menus, breadcrumb navigation, and footer menus.
Additionally, Shopify is mobile commerce-friendly, ensuring your online store is accessible and easy to navigate on various devices, from smartphones to tablets. By prioritising website navigation, you can enhance the user experience and keep your customers engaged and satisfied.
Design flexibility
To create a visually appealing and unique online store that mirrors your brand identity, design flexibility is a necessity. While both WordPress and Shopify offer a range of themes and customisation options, WordPress provides more flexibility in terms of customisation. This allows you to tailor every aspect of your ecommerce store to your preferences and requirements.
In contrast, Shopify offers a selection of over 140 themes with more limited customisation options. Ultimately, the level of design flexibility you require will depend on your technical expertise, your brand vision, and the type of products you sell.
Customer satisfaction
Customer satisfaction is vital for your ecommerce store's success, thus a platform that prioritises user experience is a must. Shopify has a higher customer satisfaction level with the user experience than WordPress. This can be attributed to its easy-to-use interface, comprehensive setup guide, and built-in security features.
Additionally, Shopify offers customer support via email, phone, and their Help Center, which can positively impact user satisfaction by providing timely assistance and resolving any issues. By prioritising customer satisfaction, you can ensure that your online store not only attracts new customers but retains existing ones as well.
WordPress on the other hand, being self-hosted, does not provide any customer service beyond their forum. Depending on your own technical expertise and experience, you may need to engage a WordPress developer when you encounter problems.
Ecommerce Features: WordPress vs. Shopify
Both WordPress and Shopify provide a variety of tools and functionalities to aid in the management and growth of your online business in terms of ecommerce features. However, there are some key differences between the two platforms in terms of payment processing, shipping and inventory management, and sales channels.
Understanding these differences will help you make an informed decision about which platform best suits your online store's needs.
Payment processing
Both WordPress and Shopify offer a variety of options for accepting customer payments, making payment processing an integral part of any ecommerce store.
WordPress offers various payment processing options, including PayPal, Stripe, and Authorize.net, with fees ranging from 2.9% + $0.30 per transaction.
In contrast, Shopify has integrated payment processing options, such as Shopify Payments, as well as the capability to connect with third-party payment gateways. Additional fees of up to 2% may apply depending on the plan.
Popular "Buy Now, Pay Later" providers such as AfterPay, Klarna, and Zip, generally support both WordPress and Shopify.
By evaluating the payment processing options and fees for both platforms, you can ensure that your online store provides a seamless and secure checkout experience for your customers.
Shipping and inventory management
For the seamless operation of your online store, efficient shipping and inventory management are essential. Both WordPress and Shopify offer various features to help you manage these aspects of your business. Shopify provides built-in integration with UPS and DHL, as well as the option to use Pirate Ship for shipping.
On the other hand, WordPress supports shipping options such as UPS, USPS, FedEx, and any other options available in the plugin library. In terms of inventory management, Shopify offers several options, such as inventory tracking, the Stocky app, third-party inventory management apps, and automatic inventory tracking across multiple locations and warehouses.
WordPress handles inventory management through plugins like WP Inventory Manager and WooCommerce. By comparing the shipping and inventory management features of both platforms, you can ensure that your online store can efficiently manage its stock and deliver products to customers in a timely manner.
Sales channels and multi-channel selling
Broadening your online store's reach via sales channels and multi-channel selling is crucial for business expansion. Both WordPress and Shopify provide options for multi-channel selling, allowing you to reach more customers and boost sales.
When it comes to multi-channel commerce, both Shopify and WordPress offer solutions to sell your products on different platforms. Shopify enables you to sell on Facebook, Instagram, Amazon, Pinterest, and eBay, while WordPress offers multi-channel commerce capabilities through plugins like WooCommerce, allowing you to sell on various platforms, such as Etsy, Amazon, eBay, Walmart, and more. In this context, choosing between WordPress or Shopify solutions depends on your specific needs and preferences.
By leveraging the sales channels and multi-channel selling capabilities of your chosen platform, you can maximise your online store's potential and reach a wider audience.
Marketing and SEO Capabilities
To drive traffic and enhance your online store's visibility, marketing and search engine optimisation (SEO) are required. Both WordPress and Shopify offer various marketing and SEO capabilities, such as email marketing, social media integration, and SEO optimisation. Understanding the differences between the two platforms in these areas will help you choose the right platform for your online store and ensure your marketing efforts are effective in attracting customers and driving sales.
Email marketing
Email marketing, a potent tool for customer engagement, product promotion, and sales boost, is critical. Both WordPress and Shopify offer email marketing features and integrations to help you create and manage your email campaigns.
Shopify provides email marketing features with:
Pre-made designs

The ability to monitor campaigns from the dashboard

Enhanced integrations with email marketing services like Klaviyo.
WordPress, on the other hand, does not have built-in email marketing tools but offers a wide range of third-party email marketing tools and integrations, such as ActiveCampaign (particularly powerful for service based businesses) and Mailchimp. By incorporating email marketing into your marketing strategy, you can build strong customer relationships and drive repeat business.
Social media integration
For a unified online presence and extended audience reach, social media integration is key. Both WordPress and Shopify offer social media integration options for your online store. Shopify provides social media icons and the ability to sell products across Facebook and Instagram.
WordPress offers various social media integrations through plugins, such as Social Media Share Buttons, Social Media Icons, and Social Media Auto Publish. By integrating social media into your online store, you can increase brand visibility, engage with customers, and drive more sales.
SEO optimisation
To boost your online store's visibility on search engines and attract organic traffic, SEO optimisation is necessary. Both WordPress and Shopify offer SEO optimisation capabilities, such as the ability to add meta titles, descriptions, and customise URLs and site structure.
WordPress provides several SEO optimisation capabilities through plugins like Yoast SEO and AIOSEO, which offer features like XML sitemaps, tags and categories optimisation, and content optimisation. Shopify, on the other hand, provides built-in SEO features through its content management system, allowing you to create blog content and optimise webpages for search engines.
By optimising your online store for search engines, you can attract more customers and drive sales through online stores.
Security and Maintenance
When selecting an ecommerce platform, security and maintenance are key considerations, given their impact on customer trust and your store's overall performance. Both WordPress and Shopify offer security features and measures to protect your online store and ensure it runs smoothly. However, there are some key differences between the two platforms in terms of site security, updates, and maintenance that you should be aware of before making your choice.
Site security
Ensuring site security is crucial for safeguarding your customers' sensitive information and retaining their trust in your online store. Shopify provides robust site security features, including:
Encryption

Secure connections

Proactive security measures

Two-factor authentication

Regular software updates
In contrast, with WordPress these measures and their correct implementation are, in large part, your responsibility as the site owner. Hosting companies will help ensure basic security features though, and specialised WordPress plugins can help with a range of security measures, including:
Encryption

Firewalls

Monitoring of suspicious activity

Security testing

Regular updates

Strong passwords

Backups
If you choose WordPress, be sure to understand these responsibilities and prioritise your customer's and your site's security for long-term trust.
Updates and maintenance
For the smooth running and optimal performance of your online store, updates and maintenance are necessary, ensuring that your online store remains up-to-date and operates smoothly.
With WordPress, updates and maintenance involve updating the main software, WordPress themes, and plugins. Shopify, on the other hand, offers automatic updates of themes and third-party apps, ensuring that your website always has the latest features and improvements. Plus, the Shopify platform at large constantly rolls out updates and improvements in the background, which you will benefit from as a merchant.
Scaling and Growth Potential
As your online business expands, choosing an ecommerce platform that can scale and adjust to your evolving needs becomes necessary. Both WordPress and Shopify offer various features to facilitate the growth of your online store, such as platform flexibility, availability of plugins/apps, and performance and speed.
By evaluating the scaling and growth potential of each platform, you can ensure that your online store can expand smoothly and continue to meet the evolving needs of your customers.
Platform flexibility
To adapt your online store to your growing business needs and incorporate new features as your business grows, platform flexibility is required. WordPress is a flexible and open-source platform, granting users total customisation capabilities and the ability to construct any type of website, including a WordPress site. With a WordPress website, your online store can easily adapt and evolve as needed.
Conversely, Shopify provides a more user-friendly experience and limited customisation options. Both platforms are adjustable to changing business needs, providing the necessary tools and resources to adjust their websites in line with their evolving requirements.
Your choice of platform should be based on the level of flexibility you require to accommodate your online store's growth.
Availability of plugins/apps
Plugins and apps are key to boosting the functionality of your online store as it expands. Both WordPress and Shopify offer a range of plugins and apps to help you manage and expand your online business. WordPress has an extensive library of over 58,000 free plugins, while Shopify's app store offers over 8,000 apps, providing extensive customisation options for your store.
By leveraging the available ecommerce plugin and apps for your chosen platform, you can ensure that your online store has the necessary tools and features to grow and thrive.
Performance and speed
To maintain a seamless user experience and customer satisfaction as your online business grows, performance and speed are key. Both WordPress and Shopify offer features to help you optimise your website's performance and speed, such as caching, image optimisation, and content delivery networks (CDNs). By focusing on performance and speed, you can ensure that your online store remains fast and responsive, even as your business expands and attracts more customers.
With WordPress, you might need high performance hosting as your traffic and site grow, another thing to keep in mind for your budget. Shopify will grow with you and server performance should not be a concern for you here.
Summary
In conclusion, both WordPress and Shopify have their strengths and weaknesses, and the choice between the two platforms ultimately depends on your unique online business needs. WordPress offers more flexibility and customisation options, making it an ideal choice for those with technical expertise. On the other hand, Shopify provides a more user-friendly experience with robust ecommerce features, making it an attractive option for those looking for an all-in-one solution.
By carefully considering factors such as your online business needs, technical expertise, budget constraints, user experience, ecommerce features, marketing and SEO capabilities, security and maintenance, and scaling and growth potential, you can make an informed decision about which platform is best suited for your online store. No matter which platform you choose, it's essential to focus on delivering an exceptional user experience, prioritising customer satisfaction, and continually optimising your online store to ensure its long-term success.
Frequently Asked Questions
Why Shopify is better than WordPress for ecommerce?
Shopify is generally better than WordPress for ecommerce as it's easier to use, doesn't require coding knowledge and includes all the necessary features built-in, unlike WordPress.
Should I switch from WordPress to Shopify?
Given Shopify's improved ecommerce functionality, easier user interface and enhanced security and reliability, it is worth considering switching from WordPress to Shopify if you are focusing on running an online store.
Is WordPress good for online business?
WordPress is a great platform for online business in general, particularly for content driven and membership sites. It allows you to develop and manage any website, customise layouts and themes and any custom functionality you could think of. For ecommerce websites, you can easily manage your product range with the help of the WooCommerce plugin.
Which platform offers better SEO capabilities?
WordPress offers superior SEO capabilities through its wide selection of plugins, providing users with more flexibility and customisation than Shopify.
Is Shopify more secure than WordPress?
Shopify offers superior built-in security measures compared to WordPress, making it a more secure choice for online store owners who don't want to spend a lot of time and resources on security measures. WordPress can be just as secure though if it is set up and optimised correctly by an expert.